Calrad 40-811 MULTIVIDEO SYSTEM CONVERTER PC TO TV AND TV TO PC

For complete specifications on the 40-811 and related products please view the Calrad 40 Series Datasheet. This is a 2.56mb pdf (Adobe Acrobat required to view) and may take some time to load. This item can be found on page 73.
---
Two way display TV/PC bi-directionally. VGA signals to any world system. Line conversion from 525 lines to 625 lines. Field conversion from NTSC 60Hz to Pal 50Hz. Composite IN/OUT, SVHS IN/OUT, HD-DB15 IN/OUT. Easy to use front panel controls. AC adapter included.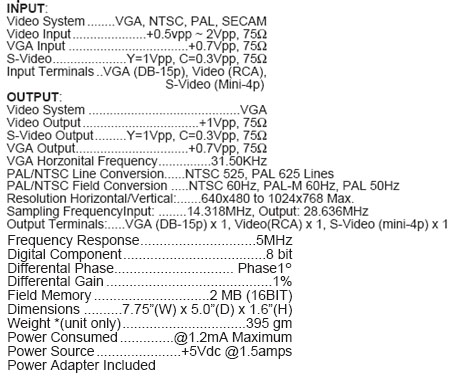 ---
The 40-811 may ship directly from Calrad.