Calrad 40-812 1 X 5 NTSC VIDEO CONDITIONER

For complete specifications on the 40-812 and related products please view the Calrad 40 Series Datasheet. This is a 2.56mb pdf (Adobe Acrobat required to view) and may take some time to load. This item can be found on page 73.
---
This unit is used for connecting DVD players to combo NTSC TV/VCR units. Removes interfering AGC or encoding signals associated with interfacing a DVD player to a VCR. Uses digital processing circuitry to maintain AGC and video contrast. RCA In/Out jacks. Includes video cable and power supply. One input, 5 Output's.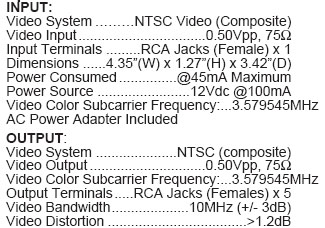 ---
The 40-812 may ship directly from Calrad.