Exabyte 00573: Exatape AME 40/100GB 150M 8MM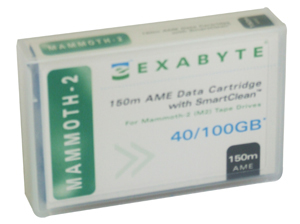 Actual product may differ slightly from the image above.
DETAILS AND SPECIFICATIONS
Exabyte 00573 Tape, 8mm Mammoth AME, 2, 150m
Exabyte AME with SmartClean tape cartridges provide the highest level of data integrity and data availability in the industry. Designed specifically for the Mammoth-2 (M2) drive, AME with SmartClean gives Mammoth-2 the automatic cleaning capability that automatically cleans the drive periodically and reduces the frequency with which the Mammoth cleaning cartridge must be used. Each cartridge with Exabyte's SmartClean technology contains a 2-meter length of cleaning material with the AME media. This cleaning material removes elements that can cause read/write errors. A sophisticated monitoring system built into the Mammoth-2 drive determines when it's time to clean and performs cleaning automatically. SmartClean safely removes tape lubricant staining without causing head wear. Cleanings take place at the right time -- when they are needed -- and won't impact tape operations. With normal use, SmartClean reduces the need to execute separate cleaning actions with the Mammoth cleaning cartridge.