Verbatim 95186 DVD-R 4.7GB 8x Silver Inkjet- 50 pk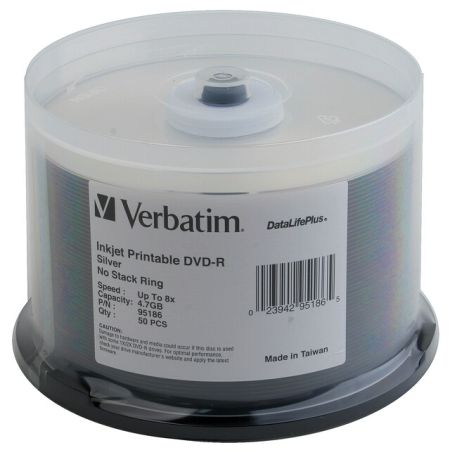 Actual product may differ slightly from the image above.

The approximate date of availability is 7/15/2018.
DETAILS AND SPECIFICATIONS
Verbatim 95186: DVD-R 4.7GB 8X DataLifePllus Silver Inkjet Printable - 50pk Spindle(minus)
---
Superior ink absorption on high-resolution 5,760 DPI printers
Full-color, high resolution, photo-quality printing
Crisp & clear text reproduction
Excellent ink drying time
Compatible with inkjet disc printers from Primera, Microboards, Epson and others
1x - 8x DVD recording speed
Advanced Azo recording dye optimises read/write performance
Superior Archival Life
Available in spindles of 50 and master cartons of 200
The UPC code for the 50 spindle is 23942-95186
---
The 95186 may ship directly from Verbatim.
4.7GB/120 minute storage capacity
Up to 8X write speed
Create high quality labels on an iridescent/reflective surface using your inkjet disc printer
AZO™ Technology for superior performance and reliability