Maxell 200200: 1/8'' DAT 72 Cartridge 170m 36GB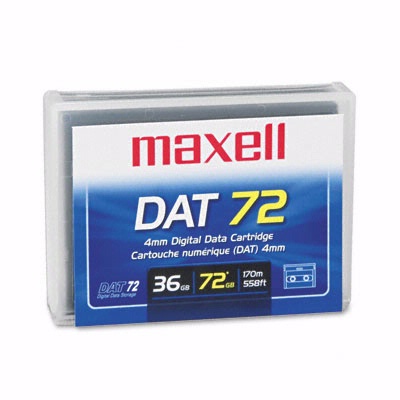 Actual product may differ slightly from the image above.

The approximate date of availability is 2/28/2019.
DETAILS AND SPECIFICATIONS
Maxell 200200: 1/8" DAT 72 Cartridge 170m 36GB Native/72GB Compressed Capacity
---
This premium cartridge delivers high output and stable signal characteristics. Advanced anti-dust/antistatic design ensures contamination-free recording. Superior data-grade tape is formulated for a low error rate and long archival life. For Drive Type: DAT; DDS; Compatibility: DAT 40; DAT72; DDS-3; DDS-4; DDS-5; Maximum Native Data Capacity: 36.0 GB; Maximum Compressed Data Capacity: 72.0 GB.