Sony LTX100GWW: 100/200GB LTO Ultrium 1 Cartridge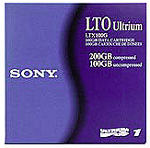 Actual product may differ slightly from the image above.

The approximate date of availability is 11/1/2019.
DETAILS AND SPECIFICATIONS
Sony LTX100GWW: 100/200GB LTO Ultrium 1 Tape Cartridge
---
The introduction of Sony LTO (Linear Tape Open) demonstrates our commitment to the mid-range server market and offering a full line-up of data media products. Sony's LTO media provides high reliability and durability which is achieved by using a magnetic layer formed by ultra-thin coating technology enabling high-density recording and high output. Sony's precision tape manufacturing technology brings out the full potential of LTO for high reliability back-up.