Sony Qgd170Me//A 20GB Mammoth D8 8MM Cartridge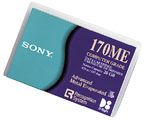 Actual product may differ slightly from the image above.

The approximate date of availability is 11/1/2019.
DETAILS AND SPECIFICATIONS
Sony Qgd170Me//A 20GB Mammoth D8 8MM Cartridge
The QGD170ME ushers in the next generation of metal evaporated products. 20GB Native Capacity (40GB Compressed). SONY High Density alloy metal particles result in lower error counts and high archival stability. SONY High Cross-Linkage help maintain performance through up to 1500 passes. Heavy-Duty lid mechanism is tested to over 10000 openings and closings for long life. Heat resistant shell withstands high temperature. Anti-Static shell attracts less dust and helps maintain low error rates. Tough Polypropylene storage cases for storing your valuable data in a dust-free environment. Diamond hard carbon coating for usurpassed durability.