Imation 12919: DLT Cleaning Tape, 20 Cleanings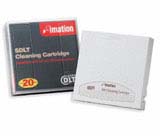 Actual product may differ slightly from the image above.
DETAILS AND SPECIFICATIONS
Imation 12919 Tape, DLT III/IIIXT/IV Cleaning 20 pass
Imation offers the highest quality DLT cleaning cartridge. It helps protect your investment. The cartridge minimizes the transfer of static during the cleaning process.

Cleaning tape for DLT III, IIIXT and IV drives
Compatible with DLT 4000, 7000 and 8000drives
Up to 20 cleanings
Imation Part No: 12919
Remarks: 3-year mfr. warranty Please note that this cleaning tape does not work with DLT I, DLT VS80 or DLT VS160 Drives.