Calrad 40-803 4 X 2 SVHS VIDEO AND STEREO AUDIO AUTO SWITCHER
4 inputs, 2 outputs. This device switches between 4 s-video/audio sources automatically. When a video signal is detected from 1 of the 4 inputs that channel's video and audio are switched to the output. To select a different input simply turn on that piece of equipment and the video and audio signals will override the previous signal and route it to the output. Switching is automatic with no user interaction. This unit can easily be hidden behind the equipment and provides a simple solution for switching video devices. A L.E.D. indicator is provided on the front panel for visual indication of what input is selected. Unit can also be operated manually.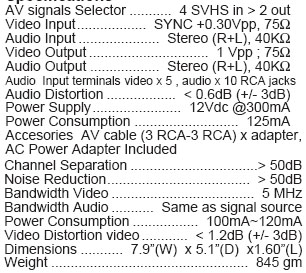 ---
For additional specifications on the 40-803 and related products please view the Calrad 40 Series Datasheet. Note: This is a 2.56mb pdf file (Adobe Acrobat required). This item can be found on page 67.
---
The 40-803 may ship directly from Calrad.