MAM-A Gold Archive CD-R: The Standard
The MAM-A Gold Archive-Grade CD-R is our highest performance recordable disc, providing longevity and durability far in excess of conventional CD-R. Every MAM-A Gold Archive-Grade disc uses robust pure 24 karat gold construction to provide the maximum resistance to environmental degradation.
Data Storage for the Ages
The Archive-Grade CD-R was developed in response to user concerns about the viability of conventional CD-R media. Consumer grade discs frequently select dyes and reflective materials to achieve the lowest possible unit cost rather than the highest possible performance. These compromises are reasonable accommodations in the consumer market but they do not take into account the requirements of long-term archive applications and may be susceptible to rapid deterioration when subjected to heat, light, or humidity. The MAM-A Gold Archive-Grade CD-R is optimized for long life and provides demonstrably superior longevity and resistance to environmental degradation compared to conventional CD-R media.
MAM-A Gold CD-R for all your Archival Requirements
Long-term applications such as data and e-mail archiving, photo and audio applications can benefit from the Gold CD-R's strict quality control, 24 karat gold reflective layer and patented Phthalocyanine dye formula which offers storage life well in excess of 300 years.
MAM-A Gold: 100% MAM-A
As one of the original manufacturers of CD-Rs, MAM-A has a long history of innovation and excellence in recordable media production. MAM-A, a global leader in the media industry, manufactures discs in Colorado Springs, Colorado. Because MAM-A CD-Rs are made from the company's own raw materials, discs benefit from a consistency and process control which no other manufacturer can equal.
Technical Specifications

Longevity test - Damp heat test results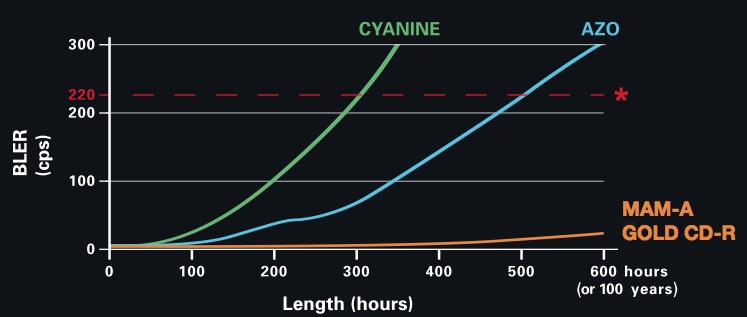 MAM-A CD-Rs offer Long term storage integrity.
Scratch Resistance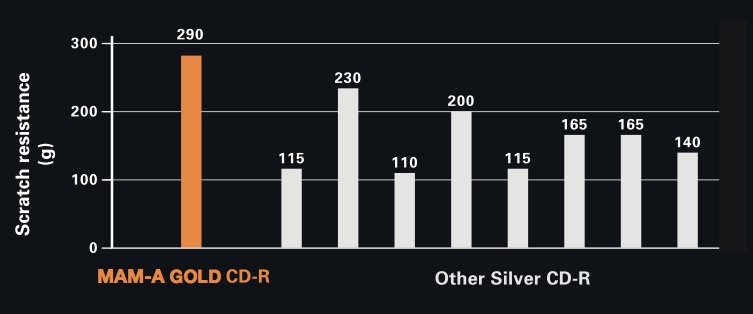 Highly durable Diamond Coat protective surface on MAM-A CD-Rs.
Faster Reacting Dye



MAM-A's phthalocyanine dye reacts faster to the laser making for more accurate reproduction and playback
Reflectivity (R Top)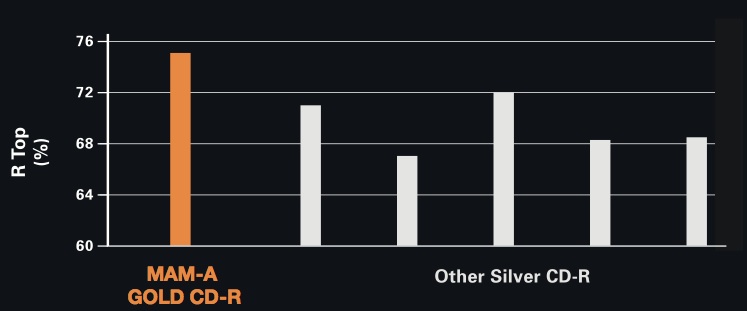 MAM-A's Phthalocyanine dye and silver reflective layer for best performance.
Packaging


Other Characteristics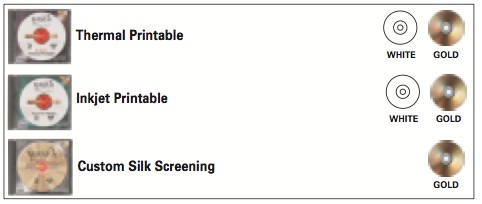 You can also view or download this information here.